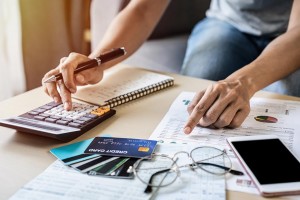 It may seem counterintuitive to take out a loan to pay off debt. However, consolidating your debt can be a wise decision and can empower you to control your financial future.

So why take out a personal loan to eliminate debt?

Credit Cards Have Crushing Interest Rates
Instead of fighting mounting interest on your credit card statement every month, use your loan to pay off your credit card debt in one lump sum.

Now that debt and bad credit are no longer hanging over your head, you can make monthly, low-interest loan payments while building good credit.

Interest and Payment Rates are Fixed
It's easy to budget when you know what your monthly payment will be!

Repayment terms are different for each individual's specific loan, varying based on how much your loan is worth and how many months it will take to pay back.

The good news is, those payments don't vary month to month, making it easy to plan.

Installment Loans Help Rebuild Your Credit History
While you can always pay off your loan early, it builds credit to continue making monthly payments in full, proving your trustworthiness for future investments.

Your credit score will determine your loan terms. Although we run a credit check, we understand that people go through tough seasons, and we frequently award loans to those with poor credit.
We will tell you how much you're approved to borrow and how much that monthly payment would come out to be.

The Housing Market Favors Installment Loans
When you're looking to make a big purchase like a home or significant home improvements, lenders like to see relatively stable debt, like a personal loan, over debt that fluctuates like credit cards.

Your debt to income ratio will determine what kind of mortgage for which you qualify.

You Can Finally See the Finish Line
Committing to spend less and save more always feels easy, but without a road map to eliminating debt, it can feel like you'll never be free.

When you take out a Midwest Finance personal installment loan in Sweetwater, TX, or the surrounding area, you have a set pay-off date.

If you need a personal loan in the Sweetwater, TX area, including West Texas and New Mexico, fill out a loan application with Midwest Finance today.