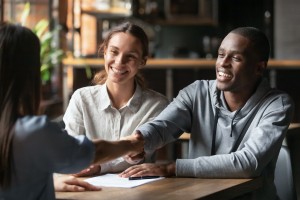 Financial emergencies usually occur without warning.
When they do, knowing where to find quality financial help is crucial.
The problem is…
When you're in a bind, it's easy to make a wrong decision that could make your situation worse.
So, in this post we'll compare installment loans vs. payday loans:
How payday and installment loans work?
Which one is better?
And why the worst one is often the most popular.
What Is A Payday Loan?
A payday loan is a short-term cash advance that has to be repaid, usually in about 2 to 4 weeks. Payday loans are popular primarily because they do not require credit checks and are easy to access. The most common complaint about payday loans is their incredibly high interest rates.
What Is An Installment Loan?
An installment loan can refer to lots of different types of loans. But ultimately, an installment loan is a personal loan that is repaid over time. Usually, you have several months up to a year or more to pay off an installment loan.
So those are the simple definitions.
But let's go a little deeper…
Here are 5 things you need to know about Payday loans and how they compare to Installment Loans—the good, the bad, and the ugly:
1. Payday Loans Require No Credit Checks. Installment Loans Usually Do.
Payday loans are very easy to get.
Most payday lenders will work with any credit situation, no matter the customer's credit score. That's why they're so popular.
If a person has terrible credit, they've probably been told that a payday loan is their only option. While that is rarely the case, it's a lie that many people believe.
The fact that payday lenders do not check credit before making a loan decision may sound like a benefit. But in reality? Performing a credit check is meant to protect the borrower. Not just the lender.
If your credit history shows that a person can't repay a loan, then lending to them is not doing them a favor.
Instead, it's putting an unbearable burden on their shoulders.
Installment loan companies, on the other hand, usually do require a credit check. However, most companies do have lower credit score requirements than bank loans.
These lower credit requirements allow lenders to provide installment loans to people from many different credit situations.
2. Payday Loans Are Easier to Access Than Installment Loans.
Another major reason people turn to payday lenders in a crisis? Payday lenders don't ask many questions.

As mentioned above, payday lenders usually don't do credit checks. But in addition to no credit checks, there are several other requirements most personal loans require that payday loans do not.

To get a payday loan, all you need is:
A valid ID or SSN
An ongoing source of income
A bank account
That's it!

No credit checks. No financial screening to make sure you can pay back your loan.

In some ways, easy access is an advantage of payday loans. But in other ways, the accessibility can be a kind of trap.

Think about it…

If there are almost no questions asked and no screening process required, then you have nothing to consider. You aren't forced to weigh the possible consequences of getting the loan.

By comparison, many installment loan companies do have a screening process.

The process is usually very simple and allows the company to help a large variety of people. But compared to a payday loan? The applicant will need to provide some additional information.
3. Installment Loans Are Secured Loans. Payday Loans Are Not.
Most payday loans are unsecured loans. Whereas, most installment loans are secured.

What is a secured loan?
A secured loan uses personal assets as collateral to ensure you repay your loan. So, if you don't make a payment on time? The lender can confiscate the property you've listed as collateral.

By contrast, payday loans are not secured.

So if you default on your loan, the lender can't come take your car or whatever you've used as collateral.

But that doesn't mean you're off the hook…

Many payday loan companies automatically draft payment from your bank account on the designated due date. Others require you to sign a post-dated check when you first apply for the loan.

If you default on an installment loan, you may lose an asset. But if you default on a payday loan, they'll take the money, even if you don't have it. So you're left paying overdraft fees and figuring out how to pay for other upcoming bills.

A secured loan may not be ideal. But in many cases, it's better than an unsecured loan.
4. Payday Loans Require Repayment All At Once. Installment Loans Allow Monthly Payments.
Payday loans have very short payment terms. You usually have about two to four weeks to repay it.

On the due date, the payday lender will either cash the post-dated check you've provided or draft your bank account.

It doesn't matter if you have the money or not.

By comparison, installment loans allow you to pay back your loan over time. You can pay smaller equal payments over a period of a few months up to a year or more.

So…

Payday loans can easily become a burden because of their short payment terms and extremely high interest rates.

After all, if you cannot afford to pay a $300 emergency expense right now, chances are you won't be able to pay back double or triple that amount 2-3 weeks from now.

That's why installment loans allow you to make small monthly payments until the loan is repaid in full.
5. Payday Loans Have MUCH Higher Interest Rates Than Installment Loans.
Payday loans in Texas come with an average interest rate of 662%, according to USstateloans.org.

That's more than 6-times the amount you borrowed.

So, if you borrow $300, you could owe as much as $1,800, which must be paid in full just a couple of weeks from now.

Installment loans can have high interest rates. But they're almost never as high as a payday loan. Interest rates on installment loans are usually a fraction of the cost of payday loans.
The Verdict: Payday Loans vs. Installment Loans
So which is better? An installment loan or a payday loan?

Well, if you're looking for a loan with:
A reasonable interest rate
Feasible monthly payments
And enough time and breathing room to actually pay off your loan without suffocating your budget...
Then you should consider an installment loan.

At Midwest Finance, our goal is to help our clients. Not burden them.

So, we don't offer payday loans. We exclusively offer installment loans.

Need help getting a personal installment loan? We've got your back. Contact Midwest today and get paid within 24 hours — 325-235-8511.